I use Notion to manage my ideas and WIPs for fic writing (and a lot of other stuff, but for today I'm focusing on fiction writing). I've been talking about this to everyone who will listen, so here's a tutorial on how you can do the same without much hassle.
This is my Fic Ideas Page on Notion.
It's the same page, two views.
Click on the images for full size. The screenshots you see here have a dark background because I use Notion with Dark Mode.
Table
Gallery
Timeline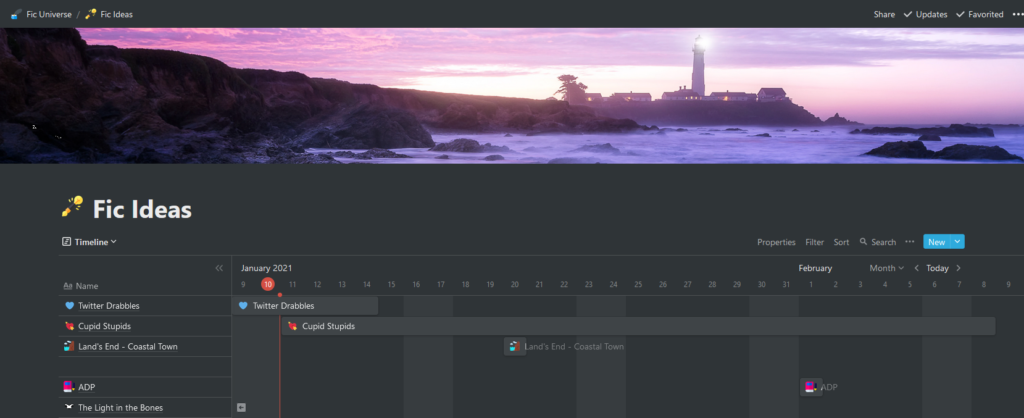 You can just assign a due date (the single blobs) or a start and end date – and it will show you all the days it covers. You can drag stuff to change the date, too. And sort the list on the left using different criteria.
Calendar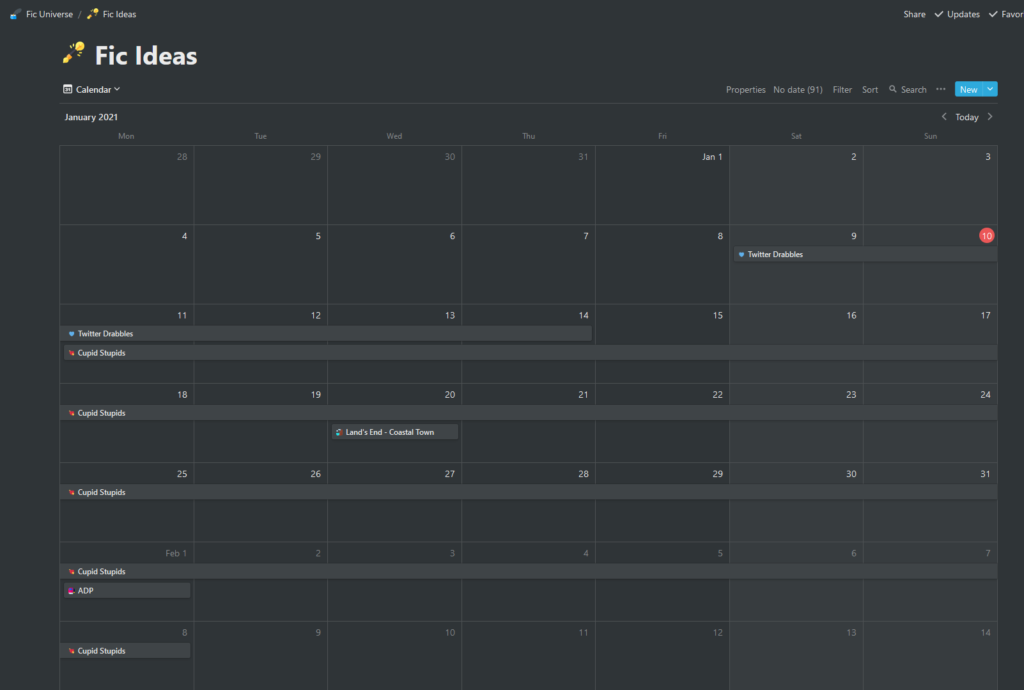 All these are views – I created the table and I add all my ideas/pages there. Then you can create different views for the table with a couple of clicks, and it will give you a drop-down menu to switch between them.
Each fic is a sub-page. So for example, I have:
Fic Ideas – Table with views

Light in the Bones – Subpage
ADP – Subpage

ADP sequel – Subpage inside a subpage

Twitter Drabbles – Subpage
The first image inside each subpage appears as a cover in the gallery.
You can add properties – like tags, url, status, whatever you want (Notion has several formats) and decide which ones appear on each view. I have all the properties on display on the table view, and some on the gallery view.
This is very simple to set-up.
1 – Create the table
Create a new page in your Notion.
Give it a meaningful title; this is going to be your top fic WIPs and ideas page. Mine is titled "Fic Ideas"
Click on Table in the grayscale menu provided.
2 – Add Properties
Every database has a Properties menu toward the top right.
To add a new property: Click on the Properties menu then on + Add a Property.
You can also click on the + sign on the last table column. Your columns are your properties, and vice-versa.
This will bring up a menu where you can name your property and select what type to use.
Your new table will already have a column for Name (you can change it to title, for example) and another for Tags.
You cad any properties you like. Mine are:
Tags
---
Property type = Multi-Select
For Tags, obviously. I use this for organization, and have a separate Multi-Select property for AO3 Tags.
Status
---
Property type = Select
The difference between the Tags column and this is that for Status, I can only select one option; whereas the Tags are Multi-Select, so I can add as many as I'd like.
My values are: Idea, Outline, WIP, Beta, Edit, Published
Date
---
Property type = Date
Note that when you set a due date in this column for a fic, you can set a start date AND an end date. So you can see exactly how long you're planning on working on this particular piece, or how long until your deadline.
You can also add other Date properties for Bang check-ins, holidays, etc.
Series
---
Property type = Multi-Select
To add the series to which a fic or idea belongs.
Events/Collections
---
Property-type = Multi-select
Similar to tags. For stuff like NASBB, SW 101, Stucky Bang, etc.
Notes
---
Property type = text
For notes, obviously.
URL
---
Property type – URL
For the url source of my idea, when applicable; or the url of the published fic.
You can add whatever properties make sense to you, drag them to change the order, edit and delete them.
Be careful when deleting because unless you immediately undo the deletion, you will lose the values of the column.
Delete, Duplicate, or Rename a property: Click the ⋮⋮ icon to the left of any existing property (or right click on it) to bring up these options.
Hide or show a property: Turn the toggle switches off or on to either hide or display existing properties in your database.
Rearrange properties: Change the order in which your properties display in your database by using the ⋮⋮ icon to drag them up or down.
3 – Add Your Fics!
Your table will already have 3 rows. Each row is a page.
Edit those three pages and you'll have your first three fics!
You can click on the columns and edit the values right in the table, or click on the "Open" button that appear when you hover over the "Name" column.
If you open the page, you'll see you have fields to edit the same properties as the table:
Anything you edit here will be reflected in the table, and vice-versa.
An edited page can look like this:
And the table will then look like this: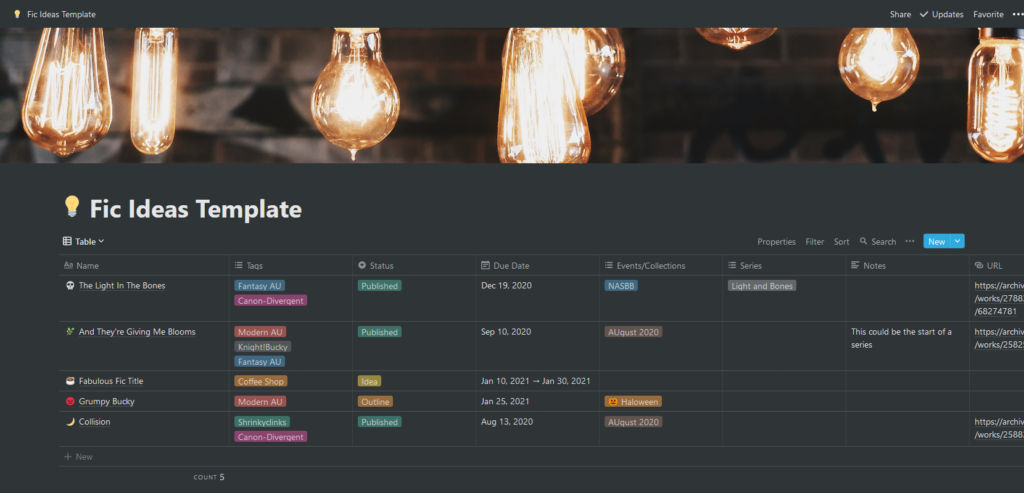 4 – Add a Gallery View
To add a Gallery View, use the top left menu, under your table title.
Click on + Add a View
Write a title – Gallery View or whatever you'd like it to be
Click on "Gallery" on the drop-down list, and then "Create"
If your fic pages don't have any images, it will look like this:
You can add images to the pages, to make the gallery pretty. The first image on the page will be selected as cover, and can be repositioned when you hover over it in the Gallery.
You can also use the page covers as gallery covers.
Once you add images/covers to your fic pages, and a cover to your Fic Ideas table, it will look like this: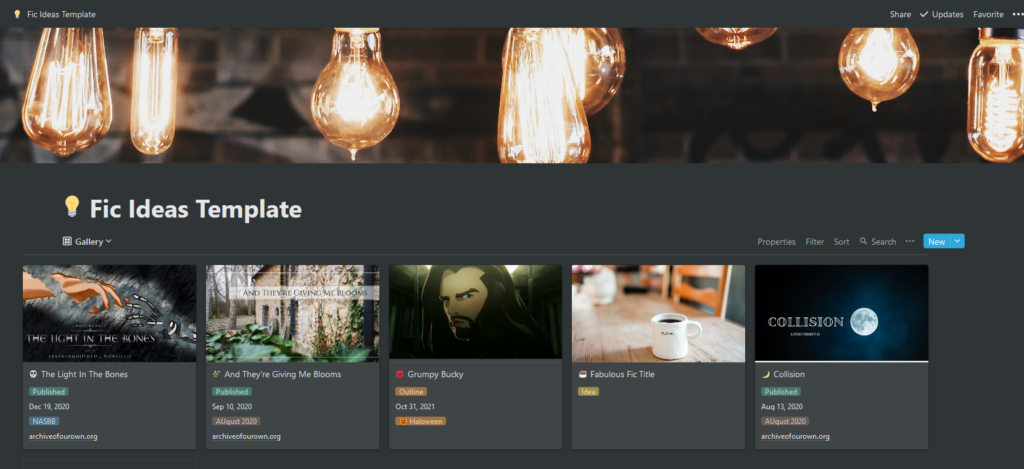 5 – Add other views
You can add other views the same way you added your gallery, using the top left menu.
Once you've added your views, you can change between them using the same menu.
I've added a timeline view and a calendar view to the template.
There's also a Kanban/Trello-style view, if you like that sort of thing; and a simple list view.
6 – Template
If you don't want to start from scratch, I have a template for you!
Click here to see the template: Fic Ideas Template
You'll see a button on the top right that says "Duplicate." Clicking on it will make a copy of this template in your Notion account.
You can then edit, delete the pages and customize this to suit your needs.
If you use the template, please let me know! I love to see people enjoying my stuff. 💜
If you'd like to share the template, please link to this page and not the template itself, okay? Thanks! 🙂
7 – PROFIT!
You can know use your Notion to organize, plan and make sense of all your WIPs.
You can have duplicate this table so you have separate tables for your published fics, for example; it's just a matter of drag and drop to move a WIP to the Published/Finished table. Notion also has a menu for that on each page.
This can be easily adapted for art projects, of course. 😄
Soon I'll write another tutorial about how I set up the page with all the info for a WIP or idea (the ones listed here are pretty basic and the template only has bare-bones examples). Follow me if you wanna know about it!
Other things that can be useful:
Credits
Header images by Patrick Tomasso and Ian Chen on Unsplash